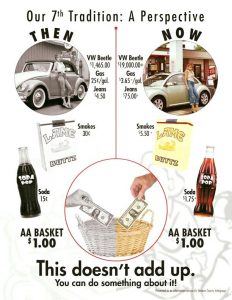 The Seventh Tradition states: "Every A.A. group ought to be fully self-supporting, declining outside contributions."
While contributions cover each group's rent and other expenses, the Seventh Tradition is essential at every level of A.A. service. It is both a privilege and a responsibility for groups and members to ensure that not only their group, but also their intergroup / central office, local services, district, area, and the General Service Office remain self-supporting.
This keeps A.A. free of outside influences that might divert us from our primary purpose — to help the alcoholic who still suffers.
But we do have expenses …
When you "put money in the basket" you support your group and A.A. worldwide.  You help make sure that:
Your group gets meeting space
Phones get answered
Alcoholic inmates get Big Books
Professionals get correct information about A.A.
Loner A.A.s get letters
Newcomers get literature and meeting lists
A.A.s around the globe share experience, strength and hope
"I want the hand of A.A. always to be there…"